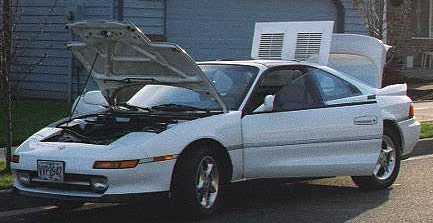 Update! Our new 1992 BMW 525iT wagon.
Here are some shots of my MR2 (a '93 Turbo). Fast and fun, small, and
This car has been dubbed "baby Ferrari" by many, and is definitely for the driving enthusiast. Call it a reliable Lotus. Alas, it was too small for 3.
side shot
other side
shot from behind
shot of the turbo badge
shot from the front
shot from the front, blink
interior shot
interior shot, different angle
another interior
front trunk
engine bay
AR wheel
no holds barred shot
Some details (from right before I sold it, please ignore the tense here ;-)


Mileage is 54,5XX or so. It has aftermarket wheels, AR polished aluminum 15" (detailed in the "AR wheel closeup" link above). Tires are 195x60 Falken in the front and 205x60 Proxes in the back. It's in good shape, and runs perfectly. I keep it cleaned inside and out, park it in my garage, and drive less than 6k miles/year. I owned the car from 10/97 until 4/99. The head gasket, turbo&wastegate, and timing belt were done at 49k miles... there was a very slow leak in the head gasket when I bought it (mis-diagnosed as a leaking oil cooler gasket), and when the local dealer found the bad head gasket and took it apart to replace it, they found the wastegate stuck closed and excessive play at both ends of the turbo, so they replaced the whole assembly under warranty. I had them do the timing belt while they were in there, since they'd already have the head off (valves were ground at the same time). Receipts are available for the work done. The clutch is fine and the car is still very tight. Also, I just replaced the battery, and the rear tires are pretty new too.


This car has a tow-hitch (1 1/4 inch vertical receiver which hides behind the rear fascia when not in use) to which I attach my bike rack, a 3-bike Draftmaster. I have never towed anything, and don't advise it although I will provide the ball platform for the hitch if desired.


Features:
| | |
| --- | --- |
| | 2.0 liter turbo-charged engine producing 200hp and 200ft-lb of torque. |
| | 0-60 in 6.1 seconds. |
| | 60-0 in 109 feet (beat that, anyone!). |
| | 2-seater, mid-engine, rear-wheel drive. |
| | 5-speed. |
| | 4-wheel anti-lock brakes. |
| | Electro-hydraulic variable speed power steering. |
| | Limited-slip differential. |
| | Factory fog/driving lights. |
| | T-Top roof (lockable) with shades. |
| | White exterior. |
| | Tan and black leather interior, 8-way manually adjustable driver's seat. |
| | Driver's side airbag. |
| | Factory 8-speaker, bi-amped sound system with radio, cassette, and CD player. |
| | Power door locks, windows, mirrors. |
| | Factory alarm. |
| | Surprisingly large rear trunk (behind the engine). |

Full disclosure on all known problems:
| | |
| --- | --- |
| | Small ding on fender next to left headlight. |
| | Minor door-ding on passenger door. |
| | A few nose/hood chips. |
| | One non-creeping window chip. |
| | Barely noticeable scuff-marks on front right bumper panel. |
| | Small white spot on black colored body trim below passenger door. |
| | Some touched up scratches on left rear window pillar, complements of the dealer when fixing the head gasket/turbo. |
| | Clear coat chips on right lower rocker panel. |
| | Water damage to carpets behind seats (no rust though!) due to leaking T-Tops neglected by previous owner. The T-Tops no longer leak - I added silicone sealer to the gaskets (if they don't leak in Oregon, they don't leak). |
| | A little scuffing on the left bolster of the driver's side seat. |
| | Small scratch on the driver's inside door panel. |
| | Stereo power button broken - unit does not turn off. |
| | Shift knob leather is worn (but I put a new, real leather shift boot on which looks very nice!). |
| | Occasional rattle from dash or passenger-side door... haven't managed to locate the source yet. |
| | No known mechanical problems. I would expect the buyer to have an inspection done, and will work with whatever shop the buyer desires. |

Full disclosure on all pet-peeves:
| | |
| --- | --- |
| | The boost gauge has no pressure numbers. The needle regularly moves above the "+" sign (this is the case in every MR2 Turbo I've driven or heard of). |
| | Temperature sensor limits boost when temperature is below 40 deg. F. This is to avoid running lean, possibly leading to over-boost (air is denser at colder temperatures, thus more oxygen in the fuel/air mix), which is a Bad Thing(TM). |
| | Mileage is not this car's selling point. 22 mpg or so - if you want an econo-box, look elsewhere. |
| | Insurance is expensive - it's in the same class as 911s, and other too fast cars. |
| | T-Top shades are dark blue, against tan/black interior (?). |
| | As with all MR2 T-Tops, the T-Tops pop and chunk over rough roads. |
| | As with all MR2s, the cabin is rather loud both from road-noise and the 200 horses running along behind you. This is not your father's Oldsmobile. |
| | The rear brake pads are aftermarket (fronts are Toyota) and they squeal under light braking. |
| | As noted above (this one has plusses and minuses) it does not have stock wheels, and the tires aren't Toyota spec (which is 195x55x15" front 225x50x15" rear). Actually, the tires sizes on the car quiet and smooth the ride noticeably, so unless you use every bit of grip a car has, you'll probably prefer them, and the wheels are nicer than stock. |

I want everyone to know that all of these problem existed when I bought the car. I'm very nice to it!


The only reason I sold the car is that my wife and I have a child now, so everywhere we go we have to drive the mini-van, which as you might imagine is a bit of a bore. I'm getting something fun to drive on those family outings.

Update! Update!

First, to replace said MR we got an '89 BMW 535iA (automatic so that Claire can drive it too). About 1/2 year later, Claire's minivan was totaled. No one was hurt, so this turned out to be a good thing since it got the dreaded vehicle out of the stable. Claire started driving the Bimmer and I just rode my bike everywhere. This worked very well, and Claire started really like her "new" car, so now that our second child is here (May 8 2000), we've gotten a 1992 BMW 525iT. It's a cool car with the utility of a wagon and the drivability of a sports sedan.


Drop Peter or Claire an email.



Home.