Suffering: 1) To feel pain or distress; sustain loss, injury, harm, or punishment.
Introduction
Those diagnosed with Multiple Sclerosis certainly understand this definition - indeed, they live it. And yet many provide an example for the rest of us to learn from. This year, I learned. Again.
My wife Claire has had MS for nearly 18 years now. As a very accomplished and hard working professional violist, her career was taken from her by continuing nerve damage in her hands and arms. After a heartbreaking transition period, she managed to let go of that passion for playing and move on - on to creating and enjoying a family with me, writing, and living life to the fullest.
What would any of us have done, faced with this loss? Perhaps given up, perhaps set new expectations low enough to be met. Yet what is the response we would want to have, the example we would wish to set? To choose to live - not just physically but wholly. This is the lesson I have learned from Claire and so many others who live every day with MS, who make the choice - every day - to make the most of what they have. It's a lesson that bears repeating, and though it may be muted in the description of a bike ride you're about to read, it is no less with me today.

The Y2K MS150
The MS150 is a two-day, 150 mile benefit ride for the National Multiple Sclerosis Society. The ride this year was based in Corvallis, Oregon, starting and finishing on the Oregon State University campus. Though the numbers aren't in yet, it looks as though a new fundraising record will be established. The funds raised go to the National Multiple Sclerosis Society, Oregon Chapter, which uses them to provide medical equipment to MS sufferers, fund research to discover treatments and cures for MS, and provide support groups and education to area residents who have MS.
The aim of this account is to give those generous people who sponsored me a "view from the saddle" by one of the nearly 500 people participating in the ride. So clip in1 and read on!
Saturday, August 5
It was a cool Saturday morning, relatively speaking, as I found myself driving South on I5 from Portland to Corvallis. Though long rides are nothing new to me, I found myself wondering how I would perform - would I push too hard and burn out? Ride conservatively and spend too many hours in the saddle? The questions were due to the level of preparation achieved by early August. Time is certainly not in surplus for our family right now, with 3 and 23 month old brothers reigning in our home. The odd weekend century2 is a thing of the past for the time being, and training rides are limited to short, intense, hilly rides before work or during lunch, with a very occasional longer ride on weekends. Thus my apprehension - in the past I have always known what my limits were. This year I was not so sure.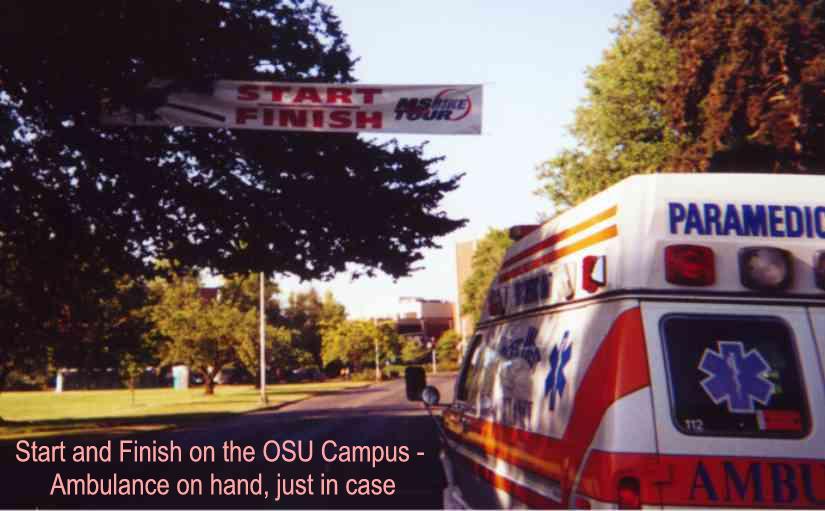 In this state of mind I reached the OSU campus. The temperature was now mild, in the mid sixties, and the sun was out. The excitement of the ride was sinking in, and I left my worries as I left my car to check in. At the table, volunteers had release forms to sign, and they handed out packages including rider numbers to identify us on the road, T-shirts, etc. Pledge sheets were due, and I was happy to turn mine in with over $1,500 in pledges. Again I must give thanks to all my sponsors, whose generosity merits special mention. Thank you all - you have made a difference!
It was time to begin the ride. At 8:40, most of the riders had already left, so the start was a solitary one for me. Concentrating on warming up slowly, keeping an eye out for course markers, and checking the bike for any anomalies occupied the first several miles of the ride. Soon enough the muscles were warm and the coffee was working it's magic. I found myself rolling along at a satisfying pace through gently rolling farmland. Fourteen miles into the ride came the first hill, a short, mild climb along a quiet, tree-lined country lane. Being light and on the small side, my body is well suited to climbing. Indeed, I enjoy it, and found this part of the ride refreshing. Rest stops #1 and #2 appeared and disappeared, not needed so early in the day. Rest stop #3 was a water stop, and there I paused to stretch, drink, and eat part of an energy bar.
Riding again, I reflected on Lance Armstrong, cancer survivor and winner of both the 1999 and 2000 Tour de France, who once said "the best cyclists are the ones who can endure the most pain." This was an epiphany for me when I read it. I realized that rides like this can't be done without pain, and so challenged myself to go that extra 1-2 MPH. It was fear of pain, not the pain itself that had been holding me back. This "new" philosophy was reflected now on the computer display - 38 miles, 21.4 average speed, heart-rate in the upper 160s. Pretty good for a lightweight cyclist riding mostly on the flats without a pace-line, and I felt no horrible pain or overbearing fatigue. I was riding harder than I would have in the past... the only danger now being burn-out.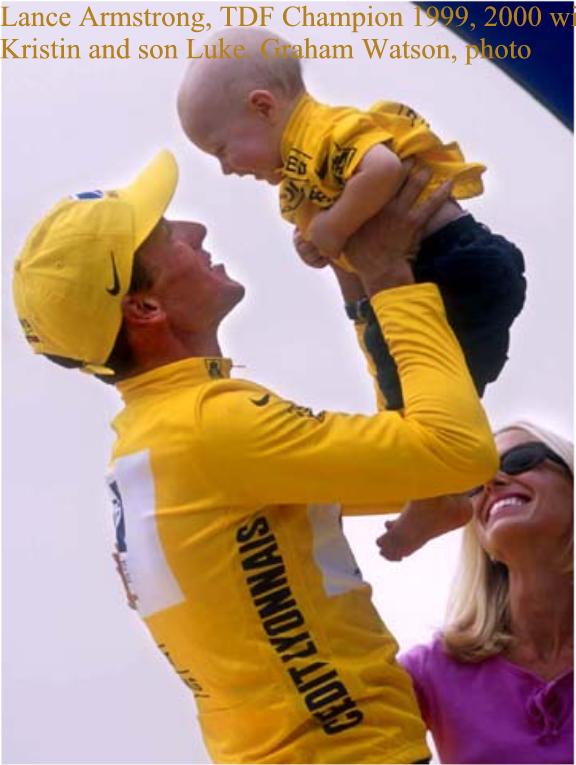 These thoughts drifted in and out of my mind, mixing with images of farms planted rich in corn and wheat, the smell of freshly turned hay, friendly greetings exchanged with other riders, and several more hills to climb. It was lovely, and on top of all that it was the section of the ride leading to the lunch stop. Now rather hungry, I stopped and ate a sandwich, a boiled potato, two bananas, and carrots, washed down with large quantities of water. Stretching was also mandatory, keeping the large muscle groups warm and ready to perform again.
After lunch, the riding was very flat. All around us was farmland, cut through with 2-lane country roads and dotted with barns and small farm houses. Many locals were out working, and were likely amused by our parade of lycra-clad-human powered machines. I was finding it less amusing as time wore on, however.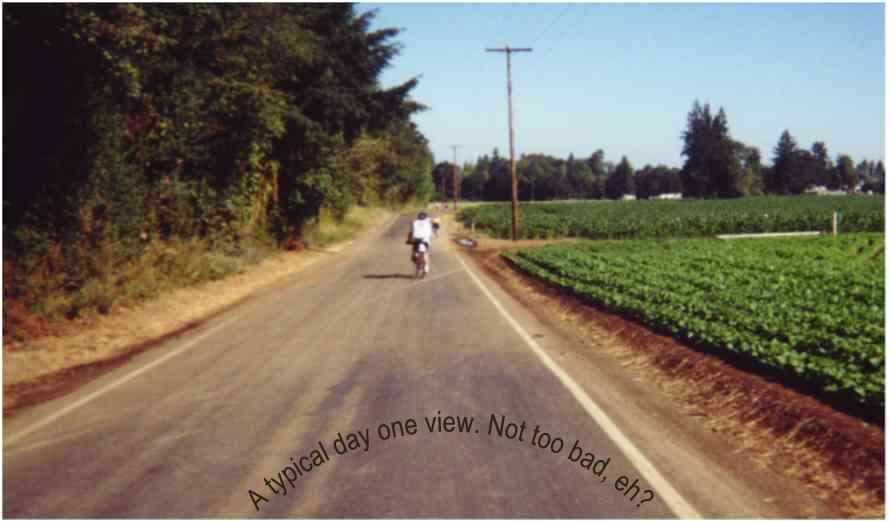 There are two times when you know you can and will finish a long bike ride. One is in the first 10 miles, after warming up and steeping in the excitement of the challenge. The other is in the last 5 miles, when no level of exhaustion is sufficient to knock you off the bike in the following 20 minutes. The vast majority of a long ride is spent between these two markers...
After mile 50, the wind picked up, blowing at perhaps 5-10 MPH. Unfortunately, it was a headwind. A mild headwind can easily take 1-3 MPH off one's speed, and stiff headwinds rob much more. This was not a strong wind, but after 50 miles of riding and with the temperature picking up, a headwind of any magnitude was depressing to me. I watched my speed hover around 18 MPH while my exertion level felt like I should be riding 21-22 MPH. Suffering, I thought, this is suffering. But compared to what Claire lives with, this was nothing. What Lance went through? A universe separates their experiences from mine. Yet suffering is not relative, cannot be. All I knew was my legs couldn't push any harder, my arms and neck strained to hold up my head, and the dull ache of muscle against machine would be with me for the next hour or more - an eternity.
In this dream-like state of mind, the miles continued to roll, and soon my self-pity began to fade as I reached the outskirts of Corvallis. A circuitous route brought the cyclists back down to the main campus building for the finish line. A handful of people clapped as I rolled in, and post-ride conversations revealed that I was only the 8th or 9th person to finish. Reflecting on the ride, I realized that no one had passed me, and that I was actually one of the faster riders on the course, which made me feel better about my "dismal" performance in latter 1/3 of the ride. No, speed isn't everything. But meeting a goal and rising to a challenge has meaning for me. I felt I had done my best and given my all. And that was only day 1!
I arrived home to a wonderful surprise party being prepared by Claire and my good friend David, with a little help from young Joseph. Gorgeous roses - grown by Claire - filled the house, and a sumptuous meal of spaghetti with Claire's famous gourmet meatballs, salad, fresh garlic bread, and coffee ice cream capped a meaningful day and wonderful ride with an outstanding culinary experience shared by family and friends. Thank you Claire!
Day 1 Stats
| | |
| --- | --- |
| Distance (miles) | 81.33 |
| Total Time | 4:41:22 |
| Riding Time * | 4:17:06 |
| Average (MPH) | 17.45 |
| Rolling Average (MPH)* | 18.9 |
| Maximum (MPH) | 37.5 |
| Average Heart rate (beats/min) | 164 |
| Estimated calories burned | 2,194 |
| Elevation gain (ft.) | 1,967 |
* These are the ones that count
Sunday, August 6
Day two started out the same, driving South from Portland to Corvallis. An earlier departure from home lessened the rush, but I5 has a way of coaxing up one's speed. I made the 80 odd miles to the start in just over an hour, providing plenty of time to start with the main group. Again the sunscreen ritual was performed, quick adjustments were made to the bike, and a few photos snapped for the report, then we were off. Saturday's route had taken us on a Southern loop from Corvallis - today's route was to follow a Northern loop. The terrain North of Corvallis is hilly, though not mountainous, therefore we could look forward to a more challenging ride Sunday.
Before relating the actual ride, let me tell you what I know about climbing:
| | |
| --- | --- |
| | It takes practice to know just how much effort is needed to climb a certain grade of hill. |
| | Practicing on steep hills makes not-as-steep hills easier to ride. |
| | "Small" framed individuals generally are better climbers, because they have less mass to carry up the hill. |
| | Climbing is what makes or breaks a race, or a recreational ride for that matter; riding up a hill at 12 MPH instead of 10 will put a rider much farther ahead than descending at 37 MPH instead of 34 (delta V of ~17% in the former case versus ~8% in the latter). |
| | There is a good deal of psychology that goes into learning to climb well. |
| | When fit, I can climb for about 6 miles with my heart rate between 175 and 185 beats/minute; 15 miles or more with my heart rate between 165 and 175. |
After a modest start at just after 8am, the course snaked from the OSU campus to the West and North. Overall we were going up, but not too drastically until mile 10. At that point the biggest climb of the ride loomed in front of us - 5 miles with a vertical gain of over 1000 feet. That works out to about a 4% grade overall, but it varied from almost flat to 7% or so. It doesn't sound very steep, yet after 3 or 4 miles of climbing, and given the 82 miles ridden the day before, it began to feel steep. The scenery helped - rolling hills, fir forests of varying ages, and several beautiful views helped us all up those hills.
The actual climbing was hard, despite the fact that the grade wasn't very steep. On steep climbs, I "let" myself use lower gears and go a little more slowly, but on moderate climbs I seem to feel I should be able to ride faster than I am. So I push the tallest gear manageable while keeping my heart-rate in check, and this climb was high effort, alternating seated climbing with out of the saddle. I kept the speed up around 13 or 14 MPH, and found myself passing a lot of people. At one point a woman said "Jesus, look at that guy" to her friend just after I passed her! I was feeling smug until I noticed a cyclist in a yellow jersey gaining on me as we climbed. Maintaining my pace, he was with me most of the climb but in the last 200 meters or so he dropped back by several bike lengths. For perspective, a hill like this would likely be climbed at around 18-20 MPH by the Tour De France peleton (if they weren't chasing a breakaway), lest anyone get the idea that I think I'm all that great. In fact, any decent Category 4 racer would easily out climb me on this or any other hill. I'm just faster than the average recreational cyclist.
This fun, effortful climb was followed by a long, straight descent into a mostly undeveloped valley. It was nice, but not steep so not particularly thrilling. Following the descent the course gained back another 350 ft in elevation, then descended again to the third rest stop at mile 26.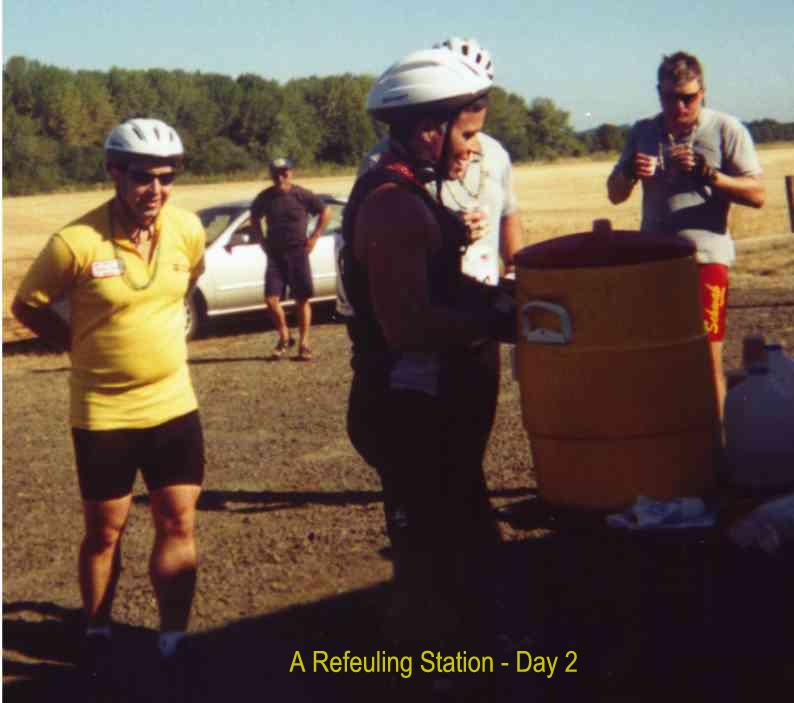 I stopped there, since I had skipped the first two (I didn't even see the second one) to eat a banana, stretch, and refill my water bottles. There were 11 miles left before lunch, so I made the stop short and got underway again. Through rolling farmland this was a section that found me riding in a rhythm, not paying very much attention to anything other than keeping the pedals turning. That mode of riding, mind wandering, just being on the bike, was very enjoyable. Lunch arrived quickly and was a welcome stop.
More fruit, a veggie sandwich, water, and 1/2 of a Power Bar was enough for me, and after a quick call to Claire to update her the road was once again rolling underneath my tires. The post-lunch ride continued through rolling farmland, but the road surfaces were now the infamous "tar and gravel" that rural Oregonian planners are so fond of. It's a rough surface that robs momentum by bouncing the wheels up and down, and I generally dislike it a great deal. However, this year I was riding my new (to me) bike - a titanium Litespeed with carbon-fiber fork - which somehow didn't feel as uncomfortable on the rough surfaces as my previous steel framed bike. What did feel uncomfortable was the amount of effort I needed to keep my speed up.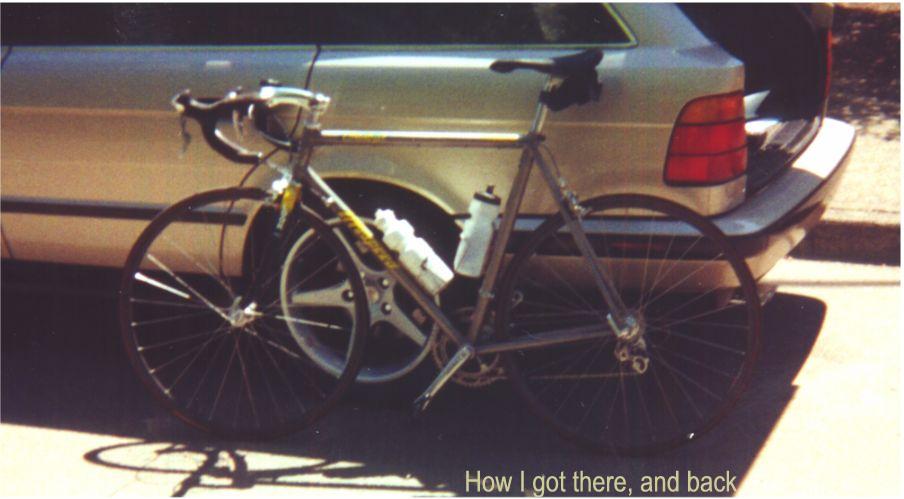 (Finally, some real shots of the steed!)

By now, mile 50 on day two, and mile 130 for the weekend, my legs were definitely tired. At the non-staffed rest stop at mile 52, I pulled in just as a woman was pulling out. I ate another Powerbar, drank more water, and stretched extensively to try to get more blood into my muscles. Starting out several minutes later, I felt fresh and strong for about 2 miles, then that "dead" muscle feeling was back. Resigned to hobbling back, or so it felt, a depression set in. But then, on a very long straight away, I caught sight of the woman from the last rest stop. Now there was a challenge - to catch up with her (she was probably close to a mile ahead). This section of the course was flat, so I shifted to a larger gear than I wanted to spin and started increasing speed slightly. 19... 20... 21 was the highest speed manageable in my current state. Slowly the distance between us shrank, but it was a good 20 minutes before I finally pulled along side her and the recumbent (see photo below) rider she had just caught up to.
We chatted for a while, and I learned that Walt, the recumbent rider, had taken a wrong turn somewhere and missed lunch. He was back-tracking to make sure he got the full 77 miles for the day, and warned us that there were more rough roads ahead. The woman was from Eugene and was a very strong rider. She was riding for the challenge and for the cause, and I admired her devotion.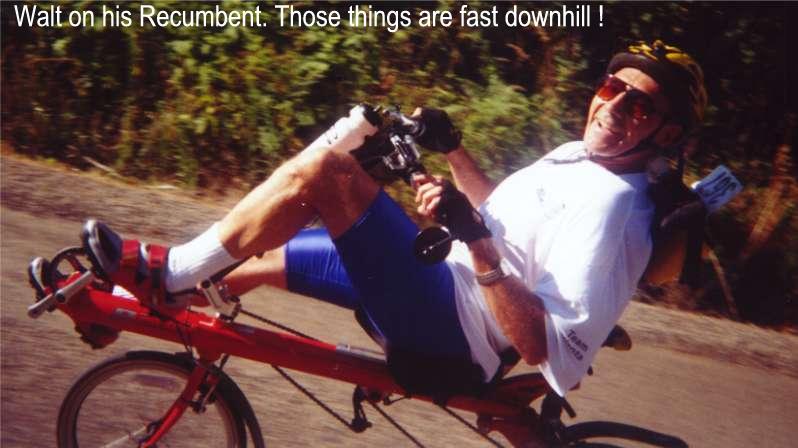 After a mile of chatting, I was ready to ride a little harder again, so said farewell and continued my ride at a faster pace. The terrain began to be interrupted with a few little hills, short "rollers" as we cyclists call them. Now the real way to ride rollers is to increase effort in order to keep the speed up as you climb. Since they aren't long hills, and recovery can be done by backing off after cresting, this is really the most efficient way, unless you want to be on the bike all day. You don't shift down unless the hill is long or steep. We cyclists call that "hammering rollers." At that point in the ride, however, I wasn't in a state to hammer anything, much less a series of short hills comprising an overall altitude gain. So, I shifted down when my legs refused to push any harder, and rode more slowly.
I was at mile 58 or so, and began looking for the last rest stop due at mile 66, as I badly wanted to stretch and take a little rest. Since the ride was seeming longer and longer, it was torture to watch the miles tick slowly by, I switched my computer to display estimated calories burned instead, assuming the rest stop would be obvious. However, since there were only a handful of people on the course ahead, the rest stops later in the stage were not yet staffed. What that meant was that the usual cheering and encouragement that marks a rest stop wasn't there to clue me in to where the actual rest stop was. I missed it, verified by a check of the odometer which showed 69 miles.
So continuing the ride was the only thing to do. In those last 8 miles there were more rollers and a couple of fairly steep 1/4 mile climbs that I struggled up. At last the outskirts of Corvallis sprang up around me, and I knew I would make it. The last 3 miles were agony but since there were only 3 miles, adrenaline for the finish kicked in. The only place for the nervous energy to go was through the bike onto the ground in the form of heat from the friction of the tires rolling along the road. That is to say, I hammered the last 3 miles though my whole body protested vigorously. The final sprint to the line was cruelly interrupted by a red light on a cross street, but the satisfaction of completing the ride was not diminished. At the finish, volunteers cheered as we crossed through the arch of balloons, and the finish line party was being setup. This day I finished in the top ten, and I was very happy to have maintained my effort through to the end.
A garden burger, change of clothes, lots of water, and some fresh fruit later I was back in the car heading for my wonderful family. This had been another amazing MS150 (well, MS158 actually)!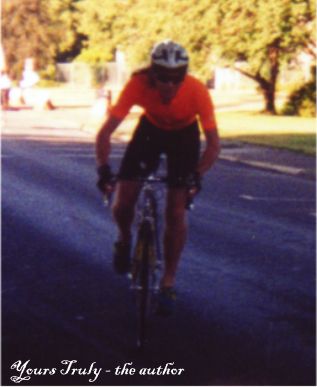 Stats, Day 2
| | |
| --- | --- |
| Distance (miles) | 77.0 |
| Total Time | 4:21:22 |
| Riding Time * | 4:09:15 |
| Average (MPH) | 17.75 |
| Rolling Average (MPH)* | 18.6 |
| Maximum (MPH) | 37.1 |
| Average Heart rate (beats/min) | 155 |
| Estimated calories burned | 1,984 |
| Elevation gain (ft.) | 3,319 |
Overall Stats
| | |
| --- | --- |
| Distance (miles) | 158.33 |
| Riding Time * | 8:26:21 |
| Rolling Average (MPH)* | 18.75 |
| Maximum (MPH) | 37.5 |
| Average Heart rate (beats/min) | 157 |
| Estimated calories burned | 4,177 |
| Elevation gain (ft.) | 5,286 |
* The important ones
Postscript
To see others who don't have direct contact with MS out riding hard and raising money to help those who do is an inspiration. The volunteers and MS Society employees who spend so many hours making this ride possible certainly deserve special recognition. Thank you NMSS, fellow riders, and volunteers!
For me, so close to the disease, motivation for this ride is very strong. It's cathartic to be able to translate physical action - in this case riding a bike - into the fight against the MS that Claire must grapple with. Claire does this same thing in large and small ways every day. She swims 3-5 days a week to keep fit; eats a well balanced diet (and helps the rest of us eat well too!); gardens for stress relief; and takes care of our two boys for several hours a day. While this ride happens but once a year, Claire performs the acts to rise above her disease every day, and serves as an inspiration to me and many others.
Footnotes:
1) "Clip in" is the act of engaging the cleat and binding system on modern bicycle pedals
2) Century in bicycling terminology means a 100 mile ride